According to a recent online poll by GoodHouseKeeping, people considered the rotting garbage to be the foulest bad household at 34.8% followed by pet smells at 24.4%.
Here are the other top 5 worst household offenders according to GoodHousekeeping.
Rotting garbage: 34.8%
Pet smells: 24.4%
Diaper pail: 15.8%
Tobacco smoke: 13.2%
Spoiled milk: 11.8%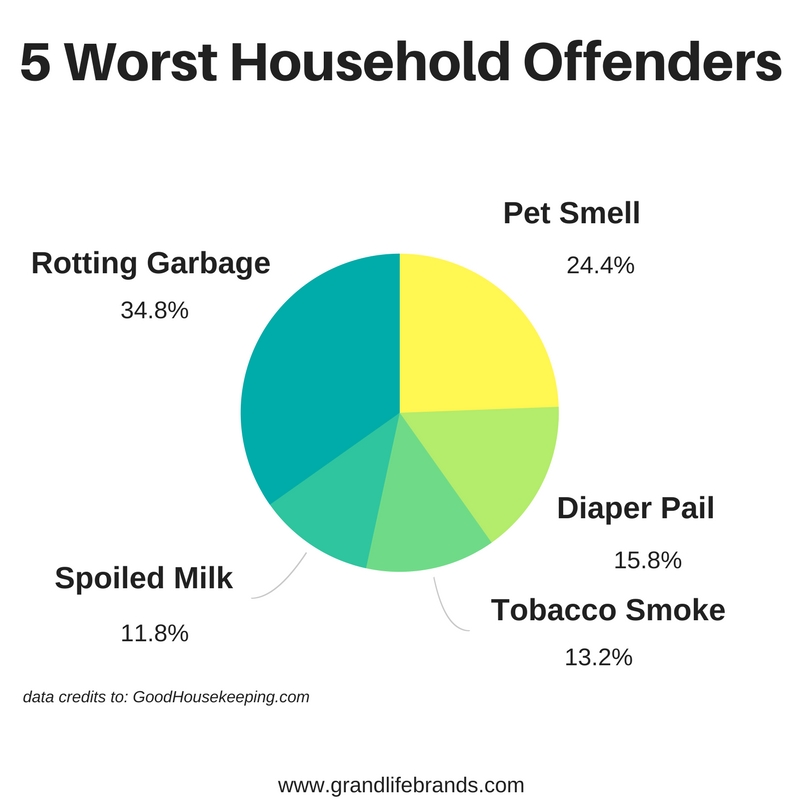 Aside from the top 5 worst household offenders, there are areas in your house that also contributes to the lingering odor
The Most Common Areas That Cause Odors
Toilets
Sink Drains
Carpet
Cat area
Dog Kennel
Hardwood floors
Garbage cans
Sofas or any fabric furniture
How to get rid of odors:
Clean your house very often.
Make sure to dispose of your garbage properly.
Have your sink drain check once in a while.
Make sure your garbage cans are covered properly
Your toilets should be deodorized and cleaned every day
Remove the feces and urine from the dog kennel. Clean it with soap and water.
Scoop the feces from the litter box and make sure to change the litter often.
There are natural products that you can try the GrandLifeBrands Premium Odor Eliminators. It is a 100% all-natural odor eliminator that is much effective than baking sodas and activated charcoals.
It is a very simple, effective, and inexpensive way to remove the common household odors. You just simply hang the bag in the room where there is an odor issue and Mr.Lucky's Pawsome Cat Urine Odor Eliminator is in granule form.
How to use:
For Litterbox:
You add it to your favorite litter to eliminate the cat pee odor. It can also help to extend the life of your litter.
Carpets and Floors
Use the granules to remove the odor from your carpets and the hard floors. Sprinkle the granules on the carpet or any floors and let it sit overnight to eliminate the odors then sweep or vacuum.
Furniture
It can also be used on your furniture by simply sprinkling the granules over. Let it sits overnight then vacuum.
Garbage cans
Pour the granules over your garbage can to eliminate the stench.